I've spent a lot of time working on my home office during the pandemic. It's an ongoing process that I enjoy, so I wanted to share the last major upgrade I made this past week. Back in 2005 or so I invested in a brand new 30" Apple Cinema Display which has served me well over the years. In fact it's been my primary display until 2020 at the beginning of the pandemic I grabbed an LG 5K 27" display from work, and ran both from my MacBook Pro. This setup was nice but having the old 2560x1600 display next to a 5K definitely showed it's age (not to mention the ghosting was pretty bad). The other major issue was the displays were positioned on my desk so the bezels were positioned just left of my nose and I had to sit off center on my desk to be aligned with the LG display.
Updating to an M1 + Ultrawide display
I had been interested in getting an Ultrawide display for over a year but with both displays getting the job done it didn't make sense to yet. However I was having an issue with the 5K display - during any video call the webcam would cut off suddenly AND knock out the USB chain meaning I would still be on the call have no video or keyboard input. I tried troubleshooting it but couldn't figure out what was going on. Since I was due for a new laptop I decided to wait and see if a new MacBook would resolve the bug.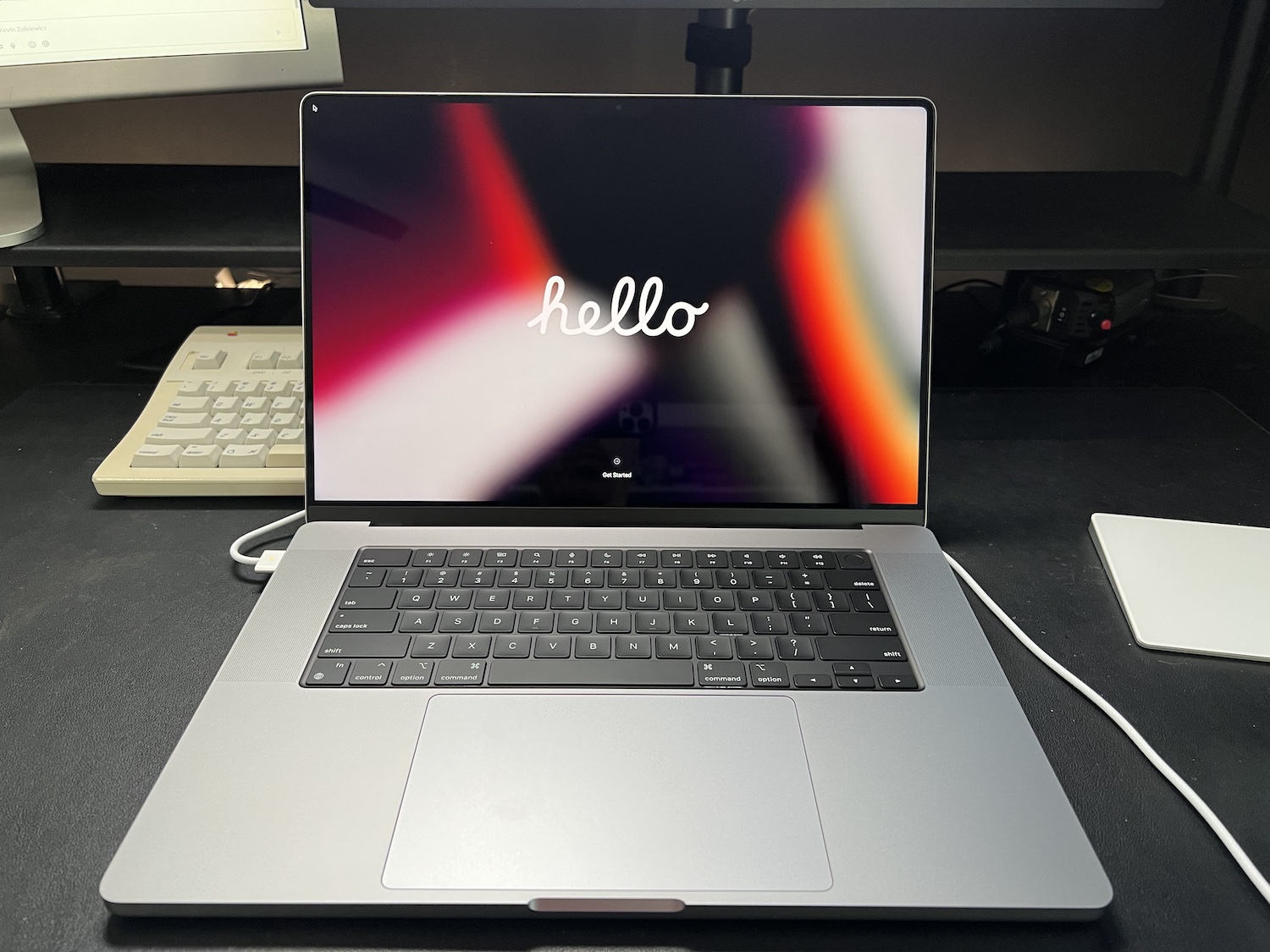 The new M1 powered MacBook Pro arrived and I spent a day setting everything, getting my development environment just how I like it and everything looked perfect. Then came the first call over Microsoft Teams - sure enough, 10 minutes in, the webcam on the 5K shut off and I couldn't type anything. That answered the question - it definitely wasn't the laptop. It had to be the display.
I spent the next week or so browsing Amazon, Wirecutter, and other tech sites, deciding what display to purchase. I don't do any gaming, so I didn't need a super high performance display. Productivity was the main focus, so I decided on the LG 49WL95C 49" Ultrawide. A few days later I saw the Amazon delivery guy hauling a giant box up the driveway.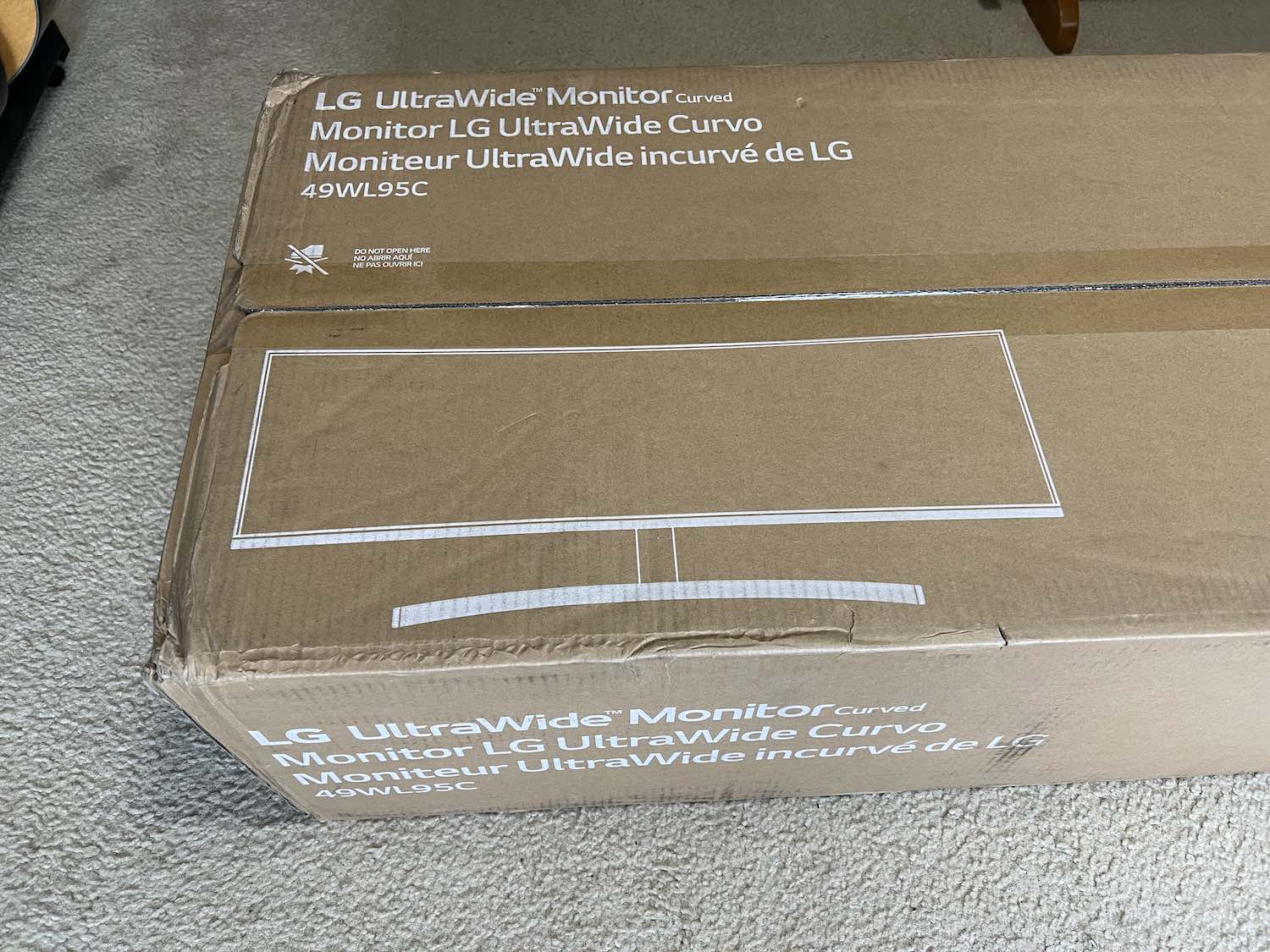 I pulled both displays off my desk and took the opportunity to clean everything off. Not having the massive external power brick for the 30" and Dual Link DVI to Mini Displayport to Thunderbolt adapter cleared a huge amount of space in the under desk cable tray. I opened the box and started carefully unpacking everything. Quickly I noticed however that it wasn't all there. LG didn't include the elliptical foot part of the stand, so ... I couldn't use the display. After a few choice swear words and triple checking it wasn't in there, I called LG and got them to ship out a replacement ASAP (which meant 7-10 business days - it still hasn't arrived).
Still severely irritated I told myself I could wait the 10 days to get the stand and set everything up when it came in. After two days of staring at the LG in the box I couldn't take it anymore, so I broke down and purchased an Ergotron HX Single Vesa Arm, which arrived promptly two days later. I was hoping to wait a bit for the Vesa arm since it carries a hefty price tag, but spending 8 hours a day in my office means my development setup is a priority.
I was finally able to get the display mounted on the Ergotron which was shockingly sturdy, stable, and amazingly well built. I plugged in the MacBook and everything powered up and looked amazing. It's not quite as sharp as a standard 5K display, but its crisp at the full 5120 x 1440. Some initial YouTube reviewers had a hard time getting the full resolution over USB-C (not Thunderbolt) but that was fixed by the latest Mac OS update a few years ago - I didn't have any issues here in 2022..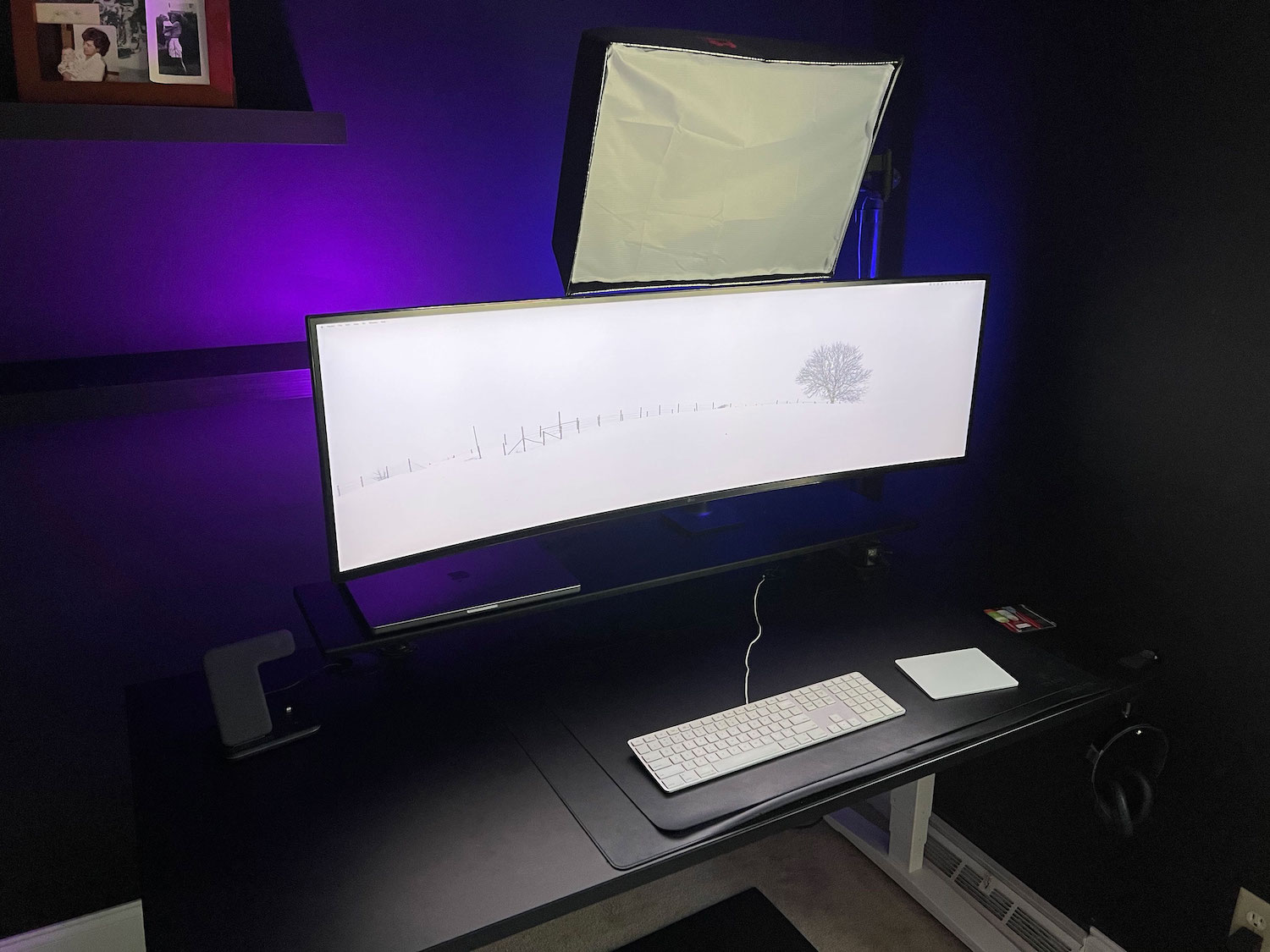 One of the features that sold me on the display was the ability to have multiple 'virtual displays' on the single panel. I liked the idea however quickly realized you couldn't do this from one machine. When they say you can have multiple displays they mean multiple inputs from separate machines. You can't push two separate virtual displays from one MacBook. This was frustrating since I was so used to dual screens, but I've adjusted my window layout and things are feeling more natural now.
Out of curiosity I plugged my Nintendo Switch into one of the HDMI ports and split the screen 70/30 to see how the feature works. Animal Crossing popped up right next to my Mac desktop, but was stretched to fill the incorrect aspect ratio. A quick resolution adjustment from the displays hardware menu fixed that. There are multiple modes for splitting the display - you can do 50/50, 70/30, 20/60/20, and even picture-in-picture.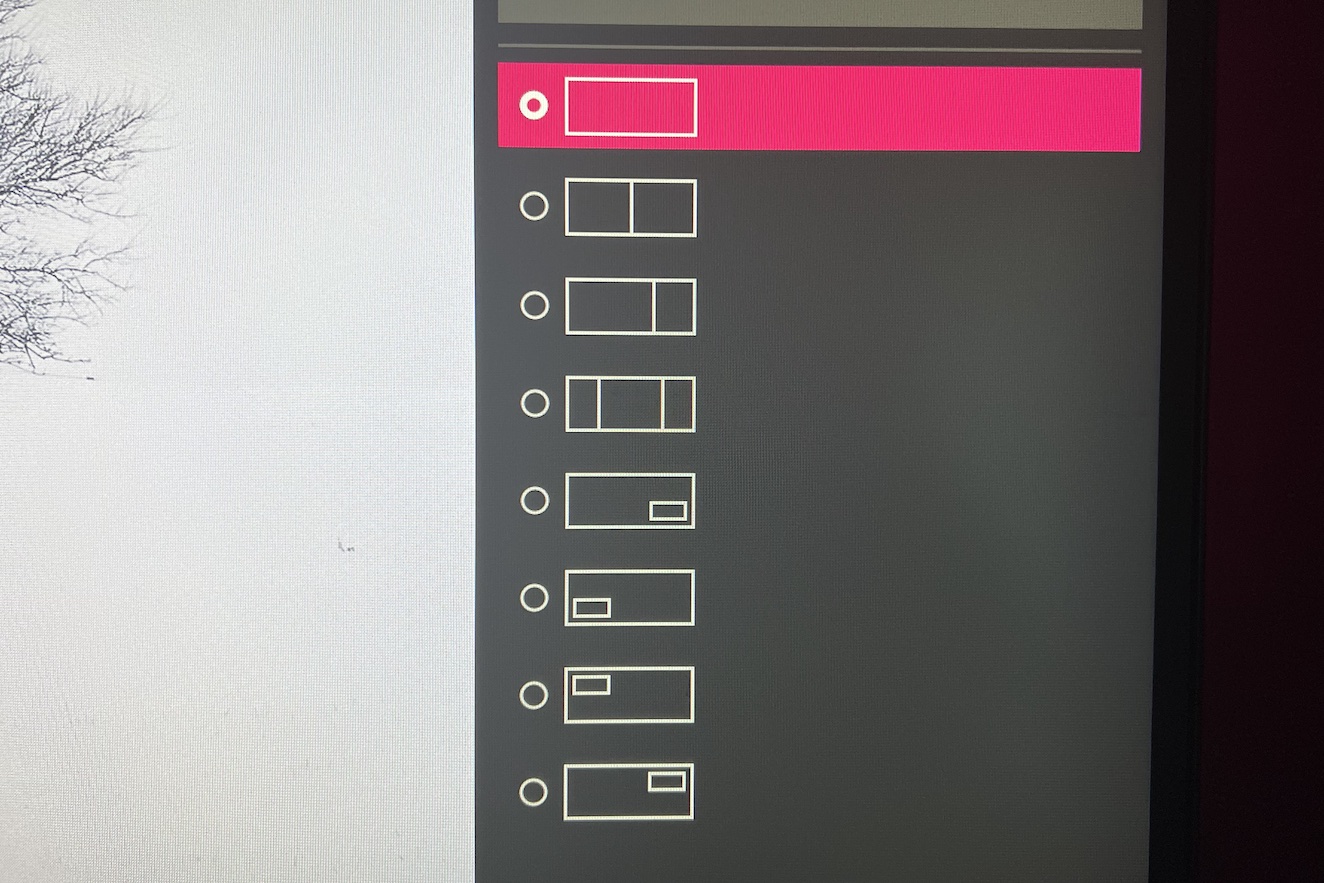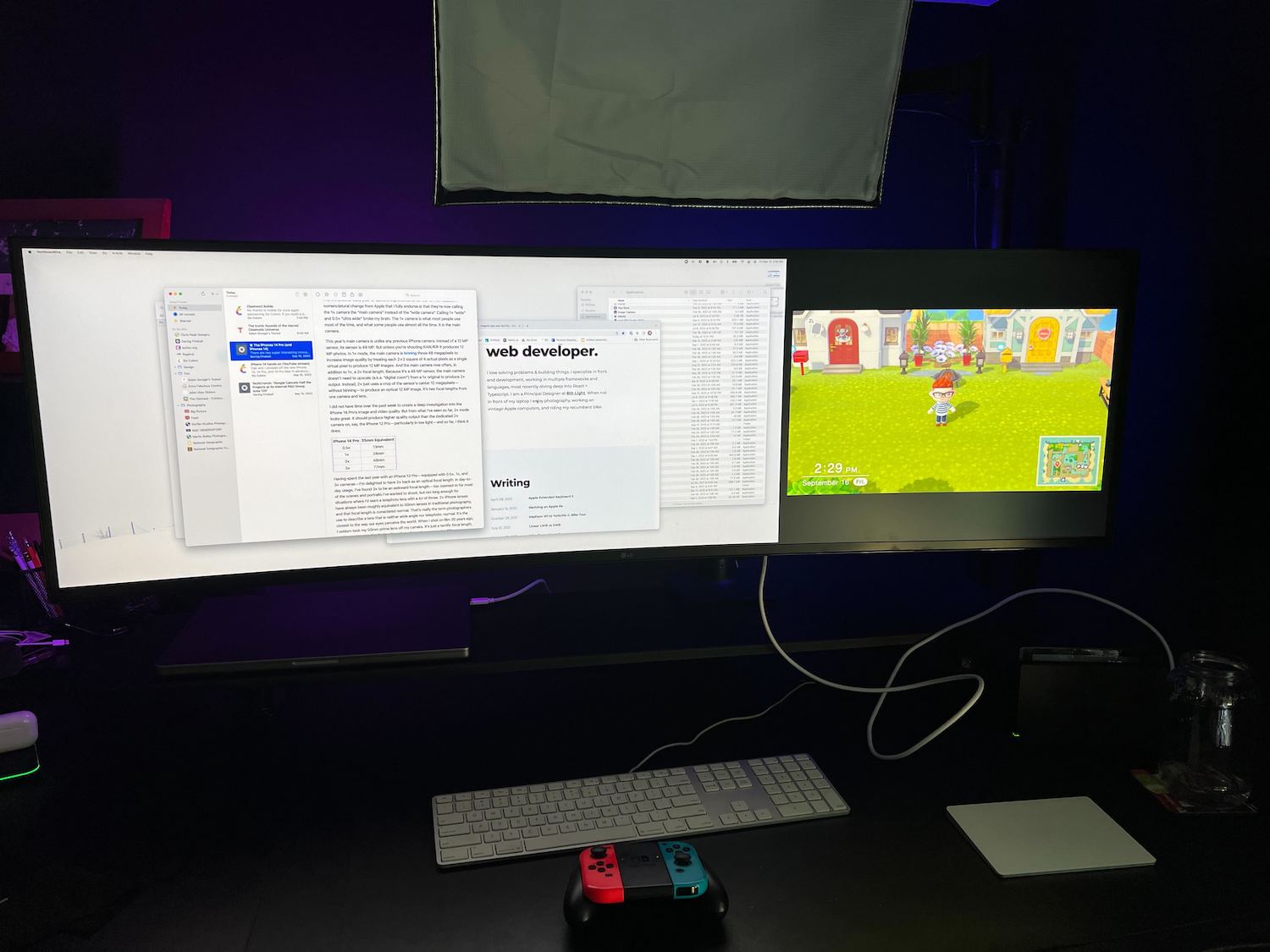 Initial Thoughts
I've been using the Ultrawide for my web development environtment for over a week now and am getting very comfortable with it. I absolutely love how much room I have. I still use three separate spaces using Mac OS - the first for my web browsers and terminal/VIM for work, the second for Calendar and Notion for productivity, and the third for Slack, NetNewsWire and Twitter for communication. This keeps things organized and I can focus on the task at hand without getting distracted unless I intentionally switch spaces.
However I will say that this display is not for everyone. It doesn't come equipped with a webcam, so while the bezels are very slim it means you have to spend some extra moeny and get an external cam to sit on top of the display. The real estate is mostrous and if you aren't a power user who knows keyboard shortcuts having the top menu way off to the upper left would be a major headache.
Out of the box you can't control the brightness OR sound right from your keyboard, so I had to download a free app called MonitorControl to re-enable that. That's a pretty significant annoyance and if someone didn't know about a software alternative I could see it being almost a deal breaker.
Overall I love this display. Having my work front and center relative to my head without a display bezel splitting my work in two is a breath of fresh air - I didn't realize how much it bothered me before. I have all the screen realestate I could ever need and having it on the Vesa mount means its just floating in air which is a beautiful touch. The speakers don't blow me away but I don't need them to, I don't crank my music since I work at home. The brightness level is not as eye-melting as other higher end displays, but thats a good thing for my poor eyes. Color accuracy seems spot on, and the 60hz limit doesn't impact anything to my eyes.
Other office goodies
Eye strain is a tricky problem and while I haven't had any major issues with it before I was always curious about ambient/bias lighting on the back of the display. I didn't want some gaudy neon setup like a lot of YouTubers have, but I did want something to add to the overall ambieance of my office. I purchased a Philips Hue Base Station & pair of Play Bars to mount to the back of my display.
Setup is straight forward but wasn't perfect - the hub just wouldn't see one of the bars, so I had to manually enter it using its serial number. After that it works great, everything is controlled through the app on my iPhone, although I haven't figured out how to add it to HomeKit yet. The app comes with a gallery of 'scenes' you can play which subtly shift the lighting over a set color palette. I've been using the 'Tokyo' scene this week which shifts between blues, purples, yellows, and oranges.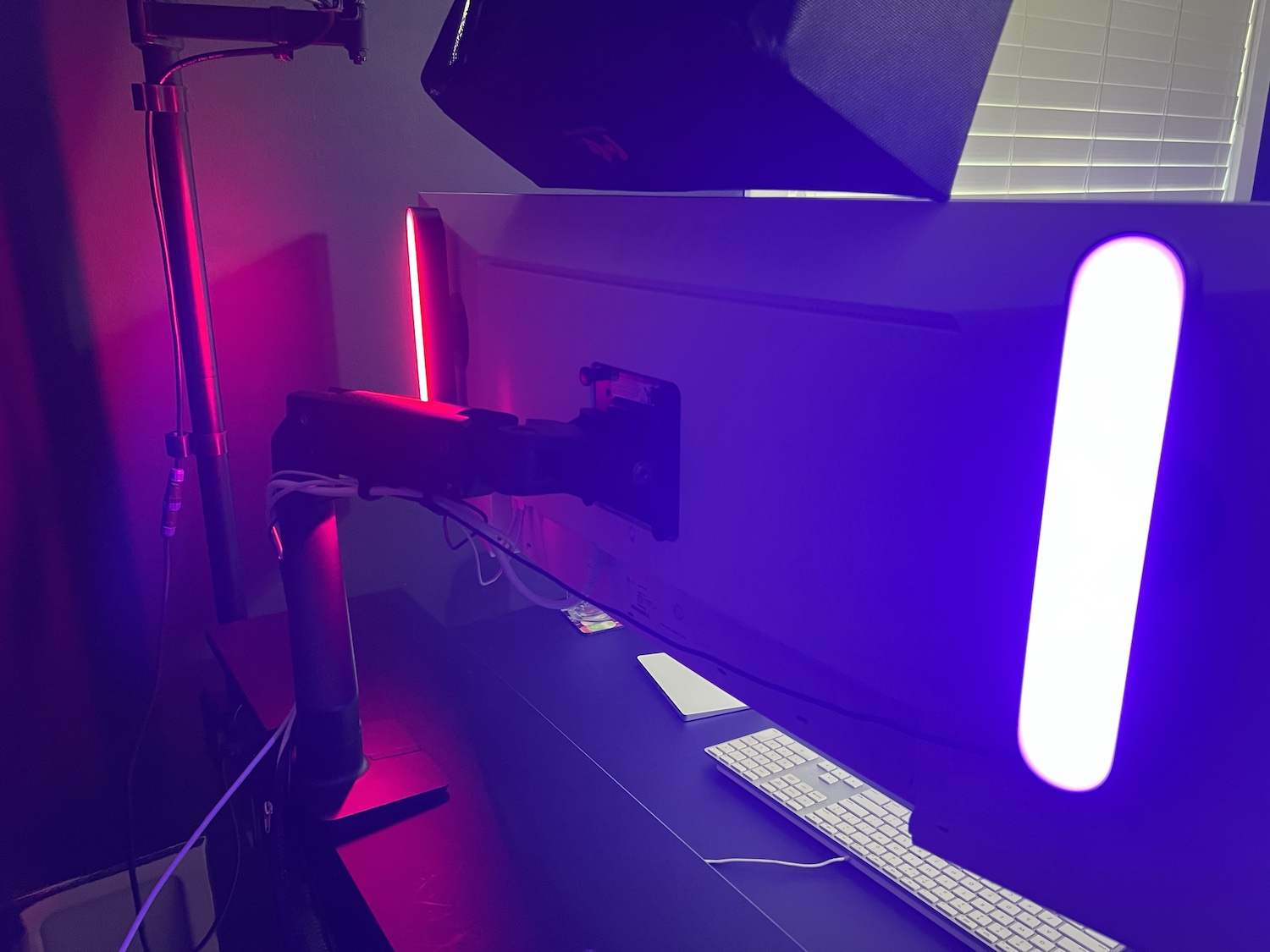 One non-essential I bought recently is the Divoom Pixoo-Max 32 x 32 LED display. I bought this for no other reason than it looked like a lot of fun. You control it through an app on your phone where you can pick user generated content or make your own. I tested it out by making it display my company logo. There's a healthy community of artists and a wide selection of free artwork to choose from plus you can set it to cycle through them using your own custom 'channel'. I keep the display on my book case behind me so it adds a little bit of whimsy and makes a fun talking point during Zoom calls. It's small enough that it's not a distraction.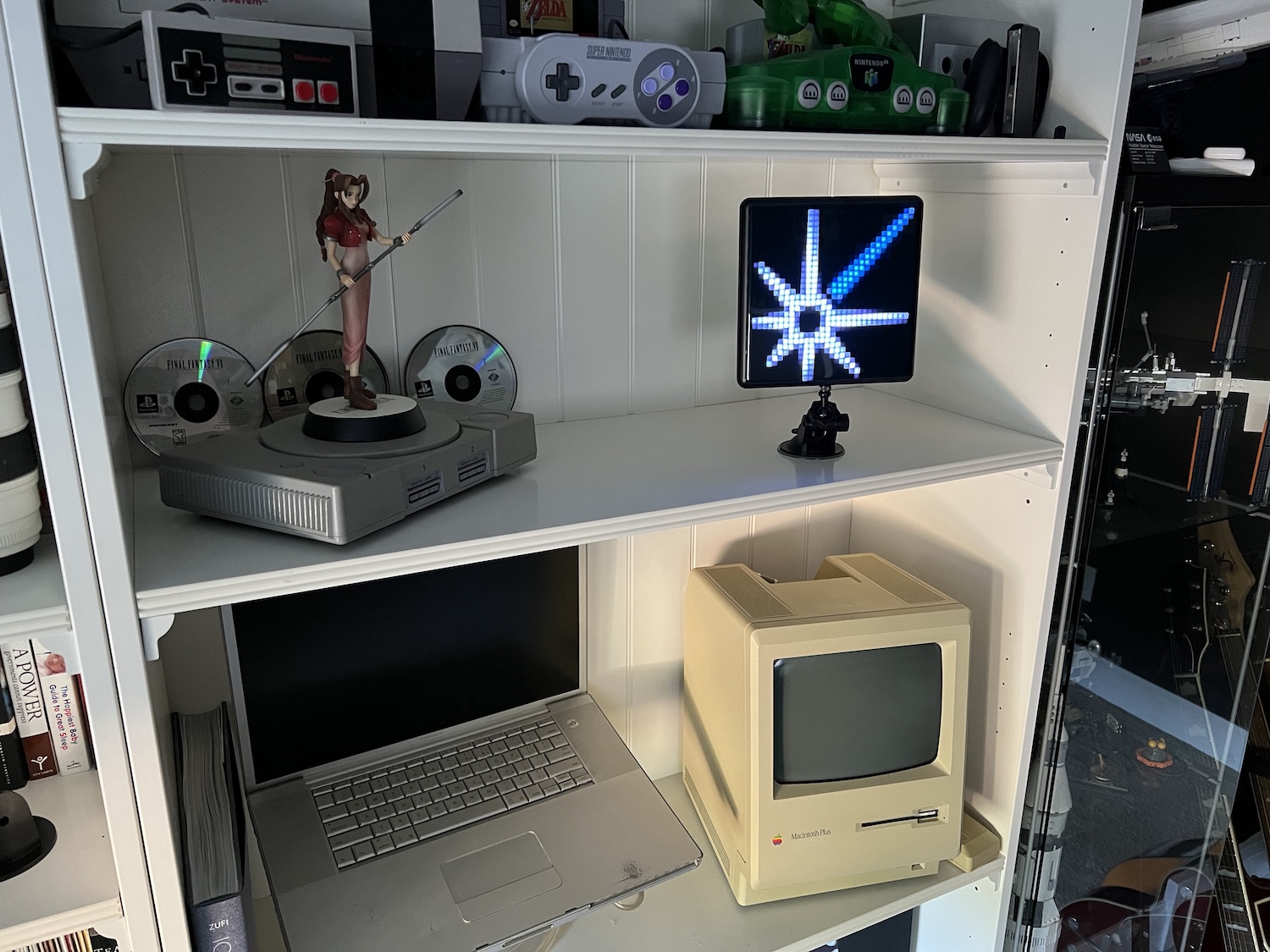 Coming together
I know I'll never call my office complete, but it is in really great shape now. Having the Ultrawide floating on my Uplift desk is my ideal setup and since I spend 8 hours a day in here I need everything tuned to how I want it perfectly. In the future I'd like to add some more Philips Hue lighting and possibly re-paint, I think the dark gray is a bit too dark unfortunately. I haven't killed my money tree plant yet, so some more plant life may be in the future. Some more vintage Apple hardware for display and a comfy reading chair might make the office complete. Maybe...